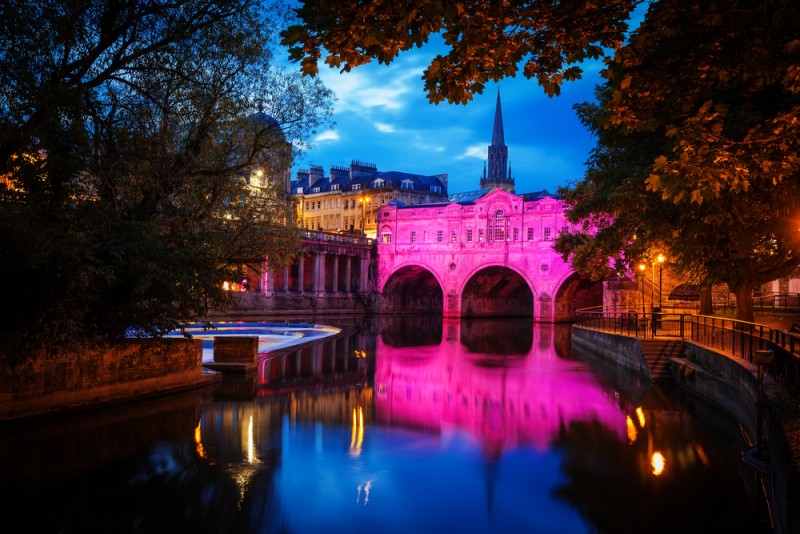 Bath is such a beautiful city and perfect for a first date. Filled to the brim of culture and history, you will never be short of things to do but here are Datingtodays top 10 places to go on that very important first date...
The Roman Baths
Bath was actually founded upon natural hot springs and the steaming water played a key role throughout its history. In the centre of Bath city is the Roman Baths which were constructed around 70 AD as a grand bathing and socialising complex and is now one of the best preserved Roman remains in the world. This place is perfect for getting a feel for the city as well as taking in some history and culture.
The Royal Crescent with a picnic
As well as the Roman Baths, the Royal Crescent is one of Baths most iconic landmarks. It is host to a crescent of Grade 1 Listed terrace houses with views overlooking the whole of Bath. This is indeed the perfect place for a first date picnic.
Café Retro
If you fancy going somewhere a bit quirky with a vintage feel, then Café Retro is perfect. They do wonderful breakfasts, lunches and evening meals and they also have gluten free options which is great if your date has food allergies.
Alexandra Park with Prosecco & Strawberries
Wherever you go in Bath, there are spectacular views and that's why it's perfect for a date! You can get to know each other better whilst absorbing your incredible surroundings. The park is 11 acres so finding a spot for your glass of bubbly and strawberries shouldn't be too hard!
Tea & Tour with Mr Darcy
Bath is famous for being home to Jane Austen so why not do something a bit different and head out on a tour with Mr Darcy!
Prior Park Landscape Garden
This peaceful woodland-flanked valley is perfect for a relaxing stroll arm in arm with your date. Take in more incredible views over Bath and if you are lucky, you might spot a deer or two!
Head to The Victoria Art Gallery or The Holburne Museum
Dating in Bath doesn't have to cost the earth so why not head to one of Bath's amazing museums? The Victoria Art Gallery houses over 1,500 paintings and sculptures and The Holburne Museum is similar but has a wider range of contemporary artists.
Walk along Putney Bridge
Did you now that Bath was featured in a huge movie recently? If you are into your musicals it may surprise you to know that Putney Bridge was actually used in a scene from Les Misérables. Why not take a walk along the famous bridge and maybe hop on the river boat for a different view of the city?
Explore Bath City Centre
If you are both into a spot of shopping, then Bath will not disappoint. With many high end shops and mainstream ones there is something to suit most shoppers.
Try A Local Beverage
Bath is home to the Abbey Ales which has been brewing for over 50 years. If you fancy tasting a local pint, then why not head to the Star Inn, The Assembly Inn or the smallest pub in Bath, The Coeur de Lion.